Yeah! It's Friday! That means it's time for another round of Fast Fact Friday. This week's theme is adventure, and you can answer all these questions with yes or no.
Have you ever been:
1. Scuba diving?
2. Bungee jumping?
3. In a helicopter?
4. Sky diving?
5. Cliff jumping?
I'm not adventurous at all, the only one of those that I've done is bungee jumping and it scared me silly. I would love to ride in a helicopter though.
Now it's time to share your answers with your friends and family, or at least your journal.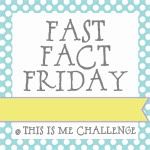 And remember, if you'd like to ask the Fast Fact Friday questions, shoot me an email: emils24(at)gmail(dot)com.