I had an idea a few weeks ago that I'm going to start doing on here every Friday—Fast Fact Friday! Every Friday there will be 5 simple questions that you can answer anywhere you want to: in your journal, type it up on your computer, do a short video, on your blog, on FB or Twitter, really anywhere you want to! You can keep the answers short and sweet or embellish on them if you'd like. Or do both!
Here are this week's 5 questions—they are just the first five random questions I thought of:
1. How long have you lived at your current residence?
2. What is the exact shade of your favorite color?
3. How much sleep do you get each night?
4. Have you ever been able to do the splits?
5. What is your favorite breakfast?
I also thought it'd be fun to let anyone ask the questions too, so if you would like to come up with the questions for a future Fast Fact Friday, please email me your 5 questions. You can choose a theme to have for your questions, or 5 random ones. Leave your name and your blog if you'd like to as well! My email is emils24(at)gmail(dot)com.
If you decide to post your answers on your blog, put this button on the bottom of your post to send your friends and family this way, and let them share in on the fun!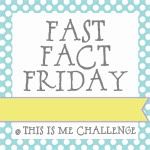 Here are my answers, short and simple:
1. It will be 5 years in May.
2. Lime green
3. 7 1/2 to 8 hours--if I don't, I get migraines.
4. Yes, until I had kids.
5. Oatmeal with strawberries or blueberries.
(I decided to not do a linky party, because last time I did one no one participated…so if you'd like to, you can leave a comment with a link to your blog. If enough people do that over time we'll start doing linky parties.)