Here's another quick round of questions for you to fill out in just minutes! I decided that I really like having a theme, so I think I will stick with a theme from now on! (Remember, if you have 5 questions that you'd like to ask for a Fast Fact Friday, you can email me your questions as well as a link to your blog! You can have a theme or just do 5 random ones.)
This week's theme is: MOVIES
1. What was the last movie you saw in the theater?
2. What was the last movie you watched at home?
3. Who is your favorite movie star?
4. What movie can you watch over and over and never get sick of it?
5. What movie will you never watch again?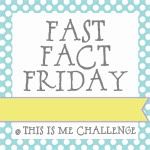 Here's a peek at my answers, short and simple:
1. Breaking Dawn
2. With kids: Cars 2 Without kids: Limitless
3. Reese Witherspoon
4. Elf
5. Top Gun—saw it when I was 12 or 13 and hated it so much I swore an oath against it.
Pin It